At-Home Sleep Testing – Topeka, KS
Sleep Testing is Easy with Dr. Michel
Before it's possible for patients to receive any kind of proper treatment related to sleep apnea or snoring, they need to have a proper diagnosis in-hand from a certified sleep physician. This requires something called a "sleep test," which closely monitors several vital signs (including the patient's breathing and general heart rate) while they're unconscious. Traditionally, the only way to complete a sleep test was to spend the night in an actual lab. However, trying to sleep in a strange place while connected to various machines doesn't always lead to the most restful nights. If you'd prefer an alternative, at-home sleep tests are also available – and our team can help!
Dr. Michel is happy to offer at-home sleep testing to his Topeka, KS patients, which gives them the comfortable freedom of sleeping in a familiar setting. The process is simple enough – we'll provide the device and all of the instructions for applying it. Keep reading below to learn more about the specific technologies we use to capture accurate, enlightening results. Contact us today if you're interested in scheduling a consultation too!
Why Choose Sleep Solutions by Michel Dental for At-Home Sleep Apnea Testing?
Convenient At-Home Sleep Testing
Medical Insurance & Medicare Accepted
Highly Experienced Sleep Dentist
ResMed ApneaLink Air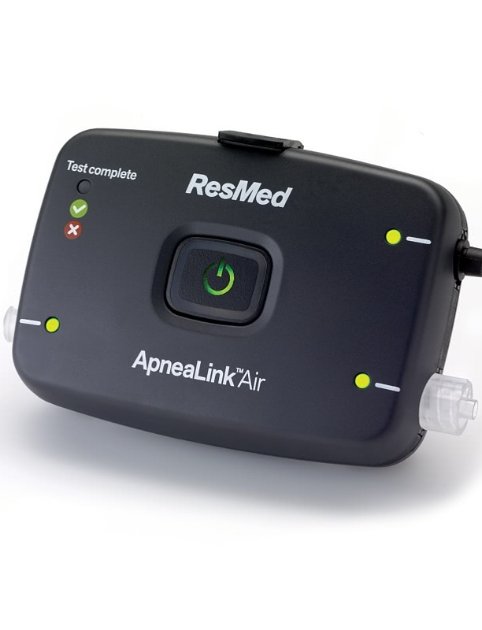 The ResMed ApneaLink Air is certainly one of the most advanced in-home sleep test devices – and its compact size is highly convenient for patients as well! The LCD screen allows for quick and simple use from the comfort of your own bed, as well as both automatic and scheduled starts/stops when it comes to recording important vital signs. Dr. Michel and our team members will be sure to show you how to use it at our sleep dental office, and we'll provide written instructions as well so that you can handle the set-up very confidently.
Once the night (or nights) is complete, you'll simply return the device in-person to one of our sleep dentistry offices or through the mail so that we can gather the results and forward them to a trusted sleep physician for proper diagnosis.
At-Home Sleep Testing Frequently Asked Questions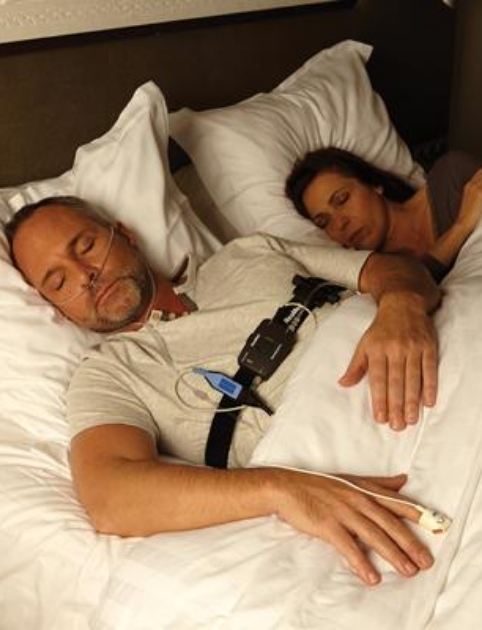 At-home sleep testing is one of the many services that Dr. Michel has to offer for his patients. If you have any specific concerns, please don't hesitate to contact our office. Until then, we've also included the answers to some of the most frequently asked questions about at-home sleep testing. These sleep testing FAQs in Topeka make the information you need as easy to access as possible! Read on to satisfy your curiosity.
Read our FAQs
Is at-home sleep testing as effective as lab testing?
Sleep testing in a lab can often be more precise because you have a professional monitoring you throughout the night, ensuring that everything goes smoothly. However, the argument can be made that at-home sleep testing creates an environment that is closest to your natural sleep, offering significant data. While you're more than welcome to complete a test in a lab, we want to make getting better sleep as convenient as possible for our patients.
How do I know if I need an at-home sleep test?
Wondering whether or not you need an at-home sleep test? The first place to start is your symptoms. Have you or your sleeping partner noticed any of the common warning signs of sleep apnea like loud snoring, waking up gasping for breath, and daytime drowsiness? If so, the only way to know if you have sleep apnea with certainty is to take a sleep test and get a diagnosis. After speaking with Dr. Michel, he can set you up with at-home sleep testing so you can find the answer to a better night of rest.
What time should I go to bed for my at-home sleep test?
Be sure to go to bed around the same time that you normally would, giving yourself a chance at a full night's sleep. If you have any questions about your testing device, please try to contact us before you begin so we can give you the information you need. It's vital not to start the testing too late because a full set of data is necessary for an effective diagnosis.
I took my at-home sleep test. What happens next?
Once you've completed your at-home sleep test, your next steps are simple! Just return your testing device to one of our convenient offices, or you can even return it by mail. Next, we will review the data, and give you a proper diagnosis. Dr. Michel will begin your custom-made sleep apnea/snoring treatment once you have been officially diagnosed. All that's left to do is to enjoy a better night's sleep with the help of one of Dr. Michel's oral appliances.
How can I get the best at-home sleep testing results?
When it comes to your at-home sleep test, it's best to do all you can to set yourself up for success. This means creating an environment that promotes sleep. Make sure that you stick to your normal nightly routine. If you like a cooler, dark room to sleep in, draw your blinds and put your fan on. Any extra steps you can take to get a good night's sleep will help the test collect more significant data.