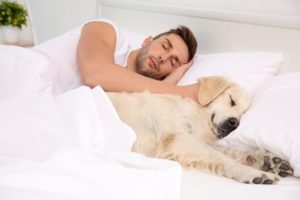 Are you and your pet virtually inseparable? If so, you may think nothing of your domesticated friend sleeping in your bed. Unfortunately, this can exacerbate any sleep breathing issues you may be experiencing. As you continue reading, learn why pets and sleep apnea in Topeka may not mix well.
The Benefits of Sleeping with Your Pet
Under normal circumstances, sleeping with a pet nearby can be super relaxing. For many, it also provides a sense of security, something that can be especially important for people who live alone. In a study of 150 patients, researchers highlighted the following data points:
Around 56% of pet owners allowed their pets to sleep in the same bed.
Only 20% of owners reported that the pets were disruptive.
Around 41% of pet owners reported that their animals provided a sense of companionship and relaxation.
While the above statistics reflect one perspective, there is still another to consider.
The Irony Posed by Sleep Apnea
While pets are usually a welcomed addition to their owner's bedroom, there is an exception to the rule. In a study of 40 adult dog owners, researchers at the Mayo Clinic measured the time each adult slept nightly for a week. As part of the study, the owners answered questions concerning where they and their dog slept each night.
The researchers concluded that those who didn't share a bed with their pet rested better than their counterparts who allowed their dog to sleep in the same bed. The members of the latter group were aroused out of their sleep several more times than those who didn't share their bed with a pet. These telling results would provide greater insight into a possible connection between sleeping with a pet and sleep apnea.
The Connection Between Your Pet and Sleep Apnea
Sleep apnea is a disorder that causes repeated breaks in breathing while sleeping. The most common form of the condition is obstructive sleep apnea (OSA), which is brought on by a partial blockage of the airway. In addition to the treatment regimen that a dentist may prescribe for the condition, it's helpful to create a restful atmosphere.
Based on the information gathered by the Mayo Clinic, revealing the connection between dogs sleeping in the bed with their owner and sleep interruptions, it's best for patients recovering from sleep apnea to avoid this all together. The good news is that once you're awake, you can give your pet all the hugs and attention it needs after having a rejuvenating night of sleep.
Before making a final decision about the effect your pet is having on your sleep apnea, it's worth talking to a sleep dentist in Topeka. Therefore, you can make the best decision for your health and wellness.
About the Author
Dr. Michael E. Michel earned his dental degree from the University of Missouri-Kansas City School of Dentistry. He has since gone on to provide 40 years of expert and compassionate care. Throughout his career, Dr. Michel has maintained a commitment to excellence, taking several hours of continuing education, which includes advanced training in the treatment of sleep breathing disorders. He helps patients rest better at Sleep Solutions, and he can be reached for more information through his website.