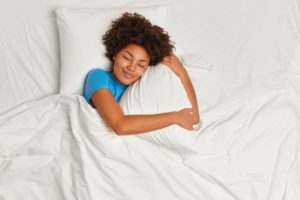 Do you suspect you have sleep apnea? The first step is to take a sleep test to diagnose the problem. Once an expert confirms you have sleep apnea, your sleep dentist will be able to develop a personalized treatment to help you achieve the rest you deserve. Thankfully, sleep testing can be done in the comfort of your own home, so it's convenient to complete! Read on to learn more about at-home sleep testing in Topeka so you know exactly what to expect.
Monitors Breathing
At-home sleep testing monitors your breathing to check for sleep apnea, not your sleep itself. It monitors any pauses or absence in your breathing as well as how much effort it takes for you to breathe throughout the night. Using sensors, including a small probe over your finger, the sleep test measures blood oxygen levels. There will also be a mask with nostril tubes and other sensors on your chest and abdomen. While you may think the test should be monitoring how deep or light your sleep is, testing your breathing will provide a true indictor for sleep apnea.
Incredibly Convenient
One of the most significant benefits of at-home sleep testing is the convenience. You'll be at your own home, which could make the sleep test results more accurate because you're in your normal sleep environment. Additionally, at-home sleep tests usually only take 1 night, and they're a fraction of the cost of an in-lab study. Plus, your insurance provider may be able to cover it!
Doesn't Completely Rule Out Sleep Apnea
Once you've finished your at-home sleep apnea test in Topeka, a certified sleep expert will review your results. However, if your symptoms persist, you may be recommended to take a test in-lab. That's because home tests can often be inaccurate—there's a possibility that your sensors fall off during the night. However, when you participate in a sleep test at a lab, a physician will monitor your sleep to ensure that no issues occur.
You May Have Other Sleep Disorders
It's important to understand that your at-home sleep test is designed to monitor your breathing, which is what causes obstructive sleep apnea. However, you may have a different sleeping disorder that cannot be detected with your at-home sleep test because it isn't caused by interrupted breathing. If your symptoms persist, you could be affected by problems like narcolepsy or restless legs syndrome. Contact your physician as soon as possible so you can pinpoint the cause of your poor sleep.
Now that you know what to expect when it comes to at-home sleep testing, what are you waiting for? Call your sleep dentist in Topeka to see how easy it is to get started.
Meet the Dentist
Dr. Michel has decades of experience in sleep dentistry, taking numerous continuing education courses to stay up to date on the latest practices. He has also studied various nonsurgical techniques for TMJ therapy through BioResearch, which often helps with sleep apnea treatment. If you have any questions, he can be reached through his website or by phone at either of his Topeka or Silver Lake locations!